Perfection. That's about what any Cal fan will tell you Saturday was. (Be sure to read all the way through for a raucous Bear Territory – how YOU should be doing it!)
As I've bored you already (and will again I am sure), it was such and awesome honor to have Coach Dykes have me speak to the team last Sunday after practice. They are a FOCUSED group. One of the things I conveyed to them is their focus is shared by the fans and they should feed off that because something special is happening. There is a sense of excitement in the Caliverse and you hear it talking with fans, alumni, past players… This doesn't happen a lot but there are times in life where you don't even need retrospect, you can actually sense in the moment that you are at an inflection point. 1990 was one such year for Cal football.  2003 was another. And I believe 2015 (can it REALLY  be 2015 all ready… how is that possible?) is definitely such a time.
And the proof? On the kind of spectacular Bay Area September Saturday that we all brag about and people visiting wonder "why aren't we living
here," more than 60,000 people filled into Memorial Stadium. For a game against an FCS opponent… Truth be told, also for a chance to watch the world famous Grambling State Marching Band who was kind enough to bring along their football team for the game. And while the Grambling band lived up to expectations and then some, and their football team played gamely though over-matched, it was the Cal offensive juggernaut and the rejuvenated defense that had the fans in such high spirits. It was such a sense of good feeling that the Grambling State Marching Band received a standing ovation for their scintillating halftime show… and late in the game down 73-0, when Grambling finally scored, what was left of the crowd gave the visiting team a nice round of applause.  I thought it was a terrifically gracious gesture, as if to say, way to hang in there and keep fighting (and we've been there before). It's what college sports is supposed to be all about.
Speaking of what college sports is all about, a huge – HUGE – shout out to the students who filled the Student Section well before kickoff… THAT is what the team hopes for and NEEDS every week… We are ALL in this thing together… And while the "Bear Territory" got drowned out a little by the piped in music, you could see the players feeding off of you so make  it happen again next week!!  Also a massive "job well done" to everyone in Cal Marketing who worked their asses off to make that big crowd happen. These things don't happen on accident and by themselves and as much as we've complained about some of the marketing in years passed, it's great to see that group REALLY stepping  up too…
I had a chance to talk with men's basketball coach Cuonzo Martin during the game. His #WhyNotCal brings tears to my eyes because it's so right – WHY NOT CAL!!!!  A lot of us have been saying this for YEARS… We have the world's greatest public University – arguably the greatest university, period – in the country's fourth largest media market. We have tradition and pageantry that are second to none… and we have a fan base with the pent up anticipation of a 40 year old ve… well let's just say we're ready to EXPLODE! Yep, Cal fans have been thirsting for this mindset for years and finally we've got it in both Basketball (men's AND women's) and football!  That of course in addition to all the Olympic sports and the mightiest of Cal sports, Rugby.
Others will dissect the game. All i know is this makes me very happy.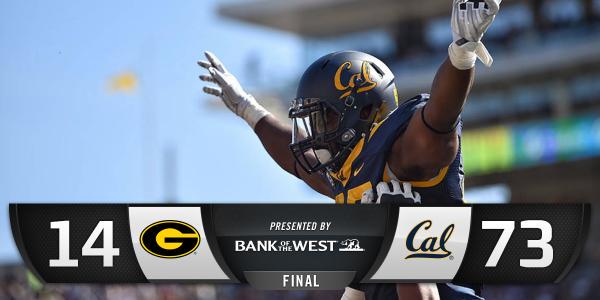 Finally, one last word about that Grambling State Marching Band… SENSATIONAL! As I mentioned their halftime show was amazing, and man do they know show business and how to play to a crowd because the finished with California Love and as on cue, the Cal crowd showered them with California love with a standing ovation… That is the first time I have ever seen that for a visiting band – at ANY school.
After the game both bands performed a 5th quarter show for about 7,000 fans who stayed, and were all glad they did. While both bands performed well, there is little doubt it was Grambling State who stole the show.
After receiving a huge ovation the students in the band all waved back to the crowd.  I have to think as they get home, game results aside, they're going to tell their friends and family and anyone who will listen, what a great time they had in Berkeley. In my book, that's a pretty great thing to be a part of.
And of course the only fitting  way to end is with Daniel Lasco leading a resounding version of BEAR TERRITORY!  If you made it all this way, thanks much for reading!  GO BEARS!!!